"Our family has a great tradition in construction and design. It started in 1945 when my father Mike Heller Sr. started his own construction company, Continental Heller Construction. Over a span of 40 years, CHC became a regional construction power and was responsible for numerous impact projects on the west coast. At its height, CHC employed over 200 workers and had annual volume in excess of $200,000,000. Impressive figures especially in 1960 dollars! The list of accomplishments is vast. A few notable projects include the construction of the Vandenberg Airforce Base, The Atlanta subway system, many of Sacramento 's Capitol Mall office towers and the restoration of the State Capitol. His career culminated with the completion of the Capitol Restoration project in 1980 after which he retired and sold CHC to a French construction conglomerate.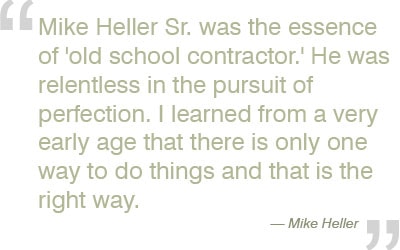 Having grown up in the Depression, Mike Sr. was the essence of 'old school contractor.' Tough but fair was his reputation. He was relentless in the pursuit of perfection. I learned from a very early age that there is only one way to do things and that is the right way. Accountabilty, integrity, innovation, reliability and honesty became the core values for CHC and remain today in Heller Pacific, Inc.
I learned a great deal from my father even though I had limited business time with him (Sr. retired from business in 1980 and passed in 2007). He played a key role in shaping my value system and in teaching me the fundamentals of business. He loved to compete. He was determined that no outside contractor EVER win a bid in his home town. Bid day at Continental Heller was electric. He was always trying to figure out how to out-smart the competition through engineering. His confidence in his own technical ability allowed him to take daunting risk on bid day.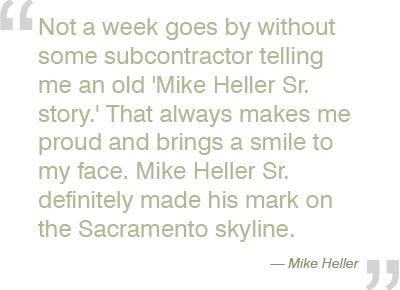 He was very much a field man. He treated the laborer with the same courtesy and respect as a high-level executive or politician. Not a week goes by without some subcontractor telling me an old 'Mike Heller Sr. story.' That always makes me proud and brings a smile to my face. Mike Heller Sr. definitely made his mark on the Sacramento skyline.
My vision for the future of my company is clearly rooted in my family's history. I hope to continue our legacy in Sacramento for excellence in design and construction. I think our projects are a testament to this commitment."