I knew the very first second I saw the interior of this warehouse that the property was a winner.  Its location is obviously excellent, being right in the heart of the R Street historic corridor and across the street from the Artist Lofts project.  The light rail is directly across the street and excellent restaurants all around.  Clearly a good site.  The building itself is so solid, has such great bones.  The exposed bow truss timber roof, brick walls and concrete floors all combine to form the perfect shell for redevelopment.  The stars have shined on this project from the get go.  We have been fortunate enough to lease the majority of the project to great tenants before we even submitted to the City for approvals.  I think R12 is an excellent example of where R Street is heading and the transformation of the district.
---
HGA Architects and Engineers
by Danny King
Sacramento Business Journal
Sept. 30th, 2016
Sure, the brick exterior and five-foot-high loading dock at the old Capitol Wholesale Electric building presented a gritty but approachable facade taht could be refashioned for office use. And the R Street location presented an intriguing redevelopment opportunity in an area that's emerging as a creative-services hub.
But the triple-bow wooden trusses supporting the 41-year-old warehouse's ceiling were what ultimately sealed the deal for developer Mike Heller.
"That roof system is very dramatic and grand", said Heller, principal at Heller Pacific Inc., which, along with Ridge Capital, redeveloped the 24,000-square-foot building at 12th and R streets. "I knew quickly that this would appeal to any kind of creative tenant."
---
Industrial building sells on Sacramento's suddenly hot R Street
by Dale Kasler
Sacramento Bee
Dec. 5th 2014
Another industrial building has sold on Sacramento's R Street, setting the stage for more redevelopment in what is becoming one of the city's trendiest commercial districts.
Michael Heller, president of developer Heller Pacific Inc., said Friday his firm purchased the former Capital Wholesale Electric building at 12th and R streets for an undisclosed price.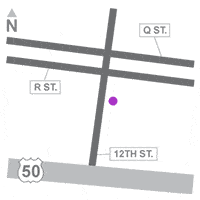 Location
1811 12th St
Sacramento, CA 95811
Get Directions