"The Ice Blocks is truly a once in a career opportunity!
Three city blocks located in the heart of Midtown, on the main arterial heading into downtown Sacramento.  A collection of old historic warehouses with amazing authentic charm.  Right on the most actively used light Rail stop in the system. 1,200 sf of frontage on the historic R Street corridor!  A Safeway next door.  Some of our cities best restaurants, bars and nightclubs a stroll away.  And scale- big scale!   I can't imagine a more exciting development opportunity for the kinds of projects we cherish.
The vision once realized will form a village of its own and help establish R Street as our cities most authentic corridor.  Once completed the Ice Blocks will be comprised of 60,000 sf of retail, 50,000 sf of office and 150 units of high density urban housing.  This is indeed a special canvas for me to paint and I am very privileged to lead this development effort."
---
Take a sneak peek at West Elm furniture store set to open in midtown's Ice Blocks
Midtown's fast-growing Ice Blocks is getting another trendy new tenant: West Elm, the international home decor store, is opening Thursday.
The company features pieces with a clean, sharp, modern aesthetic. Near the middle of the store, there is a coffee table that embodies the store's design credo – it's a simple, rectangular pieces made of light wood, with the grain variations still clearly visible. It sits on top of thin rods of blackened steel, giving it an industrial feel. But it's practical, too – the top of the table pops up to reveal ample storage space, and doubles as a tabletop to work or eat on.
View article from the Sacramento Bee
---
Urban Sacramento 1959: West End
A 1959 report on development in Sacramento.
---
Bay Area Favorite Philz Coffee Has New Home in Ice Blocks Project
San Francisco's famous Philz Coffee is opening their first Sacramento area shop in the R Street Corridor.
"It's a great fit. The space is great. The environment is inspiring and uplifting and comfortable and welcome. And that's what Philz is all about," said Philz Coffee CEO Jacob Jaber.
It's the first retail shop to open in the newly transformed Ice Blocks project.
---
New buildings to rise from ashes of Sacramento's R Street ice plant
By Ryan Lillis and Bob Shallit – Sacramento Bee
A November fire destroyed a developer's dream of converting a cavernous old warehouse into a hip new commercial center on Sacramento's R Street corridor.
Now developer Mike Heller is moving forward with plans for two modern glass-and-metal structures on the ground formerly occupied by the Crystal Ice and Cold Storage building at 16th and R streets.
A three-alarm fire gutted the long-closed ice plant, and construction crews continue removing mountains of debris.
The new plans for 16th and R, dubbed Ice Rally Cap, are part of Heller's broader outline to build housing, restaurants and office space along two blocks of R Street, a former warehouse zone rebranded as an arts district.
---
The Ice Man: Building Up From the Ashes
After plans for a massive upgrade to the historic Crystal Ice and Cold Storage building went up in smoke, Mike Heller and his team were forced back to the drawing board – here's how they forged ahead
By Russell Nichols
Nov. 7, 2015
The morning air smells like burning wood.
It's just after 5 a.m. on a Saturday. Yellow tape blocks off the area between 16th and 18th streets. Mike Heller is sitting by the train tracks on R Street, watching the century-old Crystal Ice and Storage building get burned alive with his dream inside.
No one died. But as fire crews battle the blaze, Heller thinks of his team and the time lost on this project: Two years, 89,000 square feet with 40 percent of tenants ready to move in, a vision for transforming the historic ice plant into an urban hotspot for retail and business – all shot to hell.
---
Sacramento's Ice Blocks development gets boost with new investor
by Bob Shallit
The Sacramento Bee
Tuesday, September 22, 2015
Investor Kevin Nagle has become a partner in the huge Ice Blocks development project in midtown Sacramento, providing a key source of financial strength as well as a link to the Republic FC soccer team, officials said Tuesday.
Nagle, managing partner of the soccer team, will be joining developers Mike Heller and Mark Friedman as an investor in the three-block mixed-use project that's likely to be under construction later this year on R Street between 16th and 18th streets.
View article from the Sacramento Bee
---
Dreams of a Hip, High-Tech Sacramento Hinge on Kings' New Home Court
by Keith Schneider
The New York Times
Tuesday, August 11 2015
When it opens for the Sacramento Kings' first home basketball game, the Golden 1 Center — which will have the capacity to hold 17,500 fans and is designed with online graphic and social media interfaces — will be more than the newest and most technologically advanced arena in the N.B.A.
The arena, which will cost about $500 million, will have aircraft hangar doors on its north side that open onto a public plaza anchored by a luxury hotel. There are also plans for more than one million square feet of retail, recreation, office and housing space.
View article from The New York Times
---
Ice Blocks project moves ahead in midtown Sacramento
by Bob Shallit
Sacramento Bee
Wednesday, March 18 2015
A bold plan to revitalize three gritty blocks along Sacramento's R Street corridor is racing toward reality.
Developer Michael Heller has been meeting regularly with city officials to streamline the approval process for his Ice Blocks project, a 200,000-square-foot collection of mixed-use buildings on R between 16th and 18th streets. He has a date scheduled in May with the city planning commission and envisions starting construction as early as September. Already, he's begun signing up office and retail tenants.
View article from the Sacramento Bee
---
R Street corridor redevelopment taking shape after years of effort
by Mark Glover
Sacramento Bee
Saturday, Nov. 2nd 2013
It's a sunny late Saturday afternoon, two hours before doors open at the Ace of Spades nightclub in downtown Sacramento, and people are already lining up across R Street to try to snag a prime spot inside to see Canadian-American singer Jonny Craig.
It's a young crowd, although the occasional 30-something couple wedges into the line. Practiced patience is the order of the day, with most patrons busying themselves with their cellphones. The veterans are used to this – Ace of Spades routinely draw lines of customers stretching far down the block.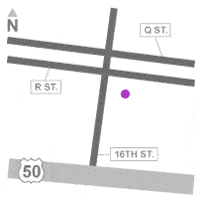 Location
R St between 16th & 18th St
Sacramento, CA 95811
Get Directions